Customer Reviews
Write a Review
Ask a Question
Filter Reviews:
polish
holo
nails
coat
holo taco
blue
collection
everything
Cristine
love
11/19/2020
RaeAnn W.
Canada
Great polish
I really like the quality of the polish and of all polish I have received. It is far better than any other polish I have bought. I used to favor brands like OPI, however now I will look to Holo Taco first to fill my needs. I plan on eventually purchasing every polish available and buying the new polishes as they come out. My only complaint is that the polish bottles are much smaller than typical polish bottles. They are 12ml, where most other brands are 15ml. However, the quality makes up for the smaller amount.
11/09/2020
Elizabeth P.
United States
Disco on my nails
I love everything Holo Taco puts out - wears like iron and super glittery. I seriously have purchased most of their line of polishes and toppers at this point. I'm used to nail polishes chipping and looking ratty after a day or two. I can do light gardening and dishes with Holo Taco finishes without worrying about my nails and it makes me so happy. I used to almost never bother with painting my nails despite my love of glitter polishes. Halo taco has replaced (the now out of business) Rainbow Honey as the best polish I've ever tried.
11/03/2020
Karley N.
United States
A little bit of the blues
Don't get me wrong...I think these limited edition flakies are gorgeous. I love my gold flakies; asked my mom buy me a second bottle for Christmas. The blue flakies themselves are just as beautiful as my gold ones, but...I had a strange experience with the blue bottle. Maybe this is more of a shipping thing, but...mine seemed like it had already used before I got it? Top of the box was slightly dented like it had been opened before I got it, which, ok, I thought it might have just been a shipping thing and I blew it off. Finally wanted to use it yesterday on my toes with my Got Cake, and the bottle was hard to open because of all of the dried polish crust on the inside of it. I actually had to get my boyfriend to open it because I couldn't do it. It also seemed goopy to me when I tried to use it. Maybe some air got in with the crust in the top? I've since cleaned up the bottle. Polish itself is fine (after a few drops of thinner) and it looks great over Purple Slushie or Got Cake. Favorite combo so has been all three of the limited edition flakies over One Coat Black. Color explosion! I know I two-starred this, but it's probably just my personal experience. I do recommend this polish. It's really pretty.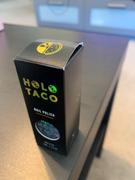 Holo Karley! We are so sorry you aren't fully satisfied with Blue Flakie Holo Taco. Our Customer Experience Team will be in touch with you via email, please check your inbox for their message.
11/03/2020
Miranda L.
United States
10/27/2020
Anni
South Korea
Beautiful!
Love using this as a topper for my blue and purple polishes. It gives my mani just the right boost to stand out and look even more stunning!