Customer Reviews
Write a Review
Ask a Question
Filter Reviews:
green
color
polish
collection
nails
shift
Chameleon Coat
holo taco
light
quality
10/21/2020
Nicole W.
United States
I love it!
Right as I got this polish in the mail, I painted my nails with it! It is a little tricky to consistently create straight brush strokes so that the multi chrome looks even, but the color and the shift effect it produces is great. It is perfect for fall and is a unique polish that I am happy to have in my collection.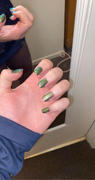 10/21/2020
Andrea C.
United States
This is the funky green polish I've been looking for
Application was smooth, A+. The green, bronze, and gunmetal it shifts between give me serious military vibes, which is perfect for me because I work for defense company and am bored with the standard neutrals people expect you to wear. Long lasting, too. Seriously glad I purchased it.
10/21/2020
Taylor H.
United States
Poor Formula, Unforgiving
I received this as a gift. Color is very similar to Green Taffy but of course with that multichrome effect showing some lavender and silver undertones in my indoor lighting. I have spent probably $200+ on HT product since launch and I am starting to see a pattern: thick goopy formula upon first use, with a tiny brush that wants to grip to the polish more than it wants to grip to my nails. It dries extremely fast and splotchy and to make things more difficult it does not level. I've bought an OPI shade from 2013 off eBay that was more manageable than this. I do all the proper preparation - cuticle care, removing oils and debris, two layers of base coat, top coat, wrap the edges, etc. I am well-practiced. I certainly don't think it's user error at this point. After having to add thinner TWICE for one manicure, I'm not so sure I can be excited about and back this brand anymore. I live in CO, it's dry yes, but I do not run into this issue with other brands I own and use (OPI, CG, Starrily, Maniology, Zoya). This is not making manicures fun nor am I liking the results. Big bummer.
Holo Taylor! We are so sorry you aren't fully satisfied with Chameleon Coat. Our Customer Experience Team will be in touch with you via email, please check your inbox for their message.
10/20/2020
Kate C.
United States
Love the color
I loved the color. The reason it's not 5 stars is because the polish was thicker(almost goopy) than I expected. I don't know if something affected it in shipping or what. I did use a drop of polish thinner and had no issues after that!
10/20/2020
Kate-Lyn D.
Canada
Beautiful Colour
It was beautiful. One coat gave great coverage. Colour shift was subtle but really pretty.