Customer Reviews
Write a Review
Ask a Question
Filter Reviews:
flakie
gold
polish
nails
holo taco
color
coat
coat black
collection
formula
11/25/2020
Kalysta B.
United States
Golden heart
For someone who is absolutely obsessed with silver. Let me just say, I fell in LOVE! With my gold flakie holo taco. I will definitely try to order the rest of the anniversary collection. However knowing my luck I will not make it. But I am so happy I at least have the gold. I did use the gold flakie over the mint money however it still looks amazing!!!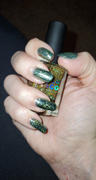 11/13/2020
Lux L.
United States
Amazing!
This is such a fantastic topper. I usually wear black nail polish exclusively, but recently I've been craving just a little extra something on top. This works fantastically to add a bright splash of golden holo flair to my usual manicure, and now I'm hooked!
11/12/2020
Austin K.
United States
Beautiful True Gold
I forgot how much these top coats are packed with holo... you really don't have to use that much product which helps it last longer. Also, this looks beautiful over a black base like one coat black or on its own for a subtle holo look!
11/10/2020
Heather H.
United States
10/27/2020
Anni
South Korea
One of my favorite toppers yet!
This topper is just so stunning. I ended up ordering another bottle of it so I won't run out anytime soon. Will be sad to see it go, as it is limited edition - but I am so glad I grabbed the whole Collection when it came out. I put it over 2 coats of Cats' Evasion with 1 coat of 'Got Cake?' and it made it feel even more luxurious and like a galaxy far away. Absolutely beautiful - I can't stop looking at my nails !