Customer Reviews
Write a Review
Ask a Question
Filter Reviews:
color
polish
coats
purple
nails
formula
holo taco
application
quality
taco
10/21/2020
Katie M.
Australia
Beautiful
Just like the other Holo Tacos I have got it is absolutely Beautiful.
10/20/2020
Saydee G.
United States
Love christine.. didn't love my polish
I love christine and have been watching her since before polish mountain!! i've also been an avid polish wearer and I haven't been without for nearly 11 years! unfortunately I didn't get on too well with my polish. even with a base and top coat the polish chipped rather quickly. I found it kind of difficult to apply as it was thick from the start. maybe the batch was just bizarre. absolutely unnerves me to write this review as I love holo taco and am a loyal fan! have a great day!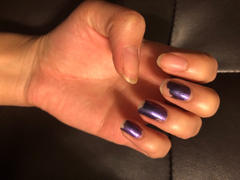 Holo Saydee! We are so sorry you aren't fully satisfied with Purple With Envy. Our Customer Experience Team will be in touch with you via email, please check your inbox for their message.
10/20/2020
Salwa A.
United States
oh so fannnccy
it matches one of my button-ups lol. it's so beautiful and i love moving my fingers to watch the change of color.
10/20/2020
Kaira M.
United States
Love it!
Such a great experience and look! Love it way more than buffing all that powder! I had a major break on two of my nails so I can't enjoy it's full glory yet, but I can't wait until my nails grow out again to get the full satisfaction. Super great product!
10/20/2020
Ambur V.
United States