Customer Reviews
Write a Review
Ask a Question
Filter Reviews:
polishes
holo
quality
nail polish
Cristine
coat
nails
collection
formula
holo taco
08/10/2020
Cecilie E.
Denmark
pigmented and beautiful!
I'm a big fan of this product! The shipping was quite fast and when the product arrived it was (and still is) GORGEOUS. Great pigment and quality. Overall I've had a great experience ordering from holo taco. Keep up the great work (:
08/09/2020
Olivia
United States
Falling in Love with Red Licorice
I absolutely love this color. It is my new go to red polish. I've never owned a linear holo before but now I never want to go back! I love the shade; it leans more towards the cool side of the color spectrum, but i've always preferred reds with blue undertones over reds with yellow undertones. If you want a true neutral red, this isn't for you, but if you like crimsons the linear sparkle really is top notch. I love the quality. The formula is a bit thick and I live in a hot climate, so you might want to consider investing in nail polish thinner.
08/07/2020
Katie W.
United States
Pink Licorice?
I love the polish but it comes off as more of a redish pink than a true red holo. It is easy to apply and looks great in all lighting.
08/07/2020
Mariane A.
Canada
Looove it!
Formula is really good. It can be thick but it has been mentioned that adding nail polish thinner (that does not contain acetone) can help thin it out to the consistency you prefer. I have tried this and it works. The color is really vibrant and even just one coat is very opaque. Works well with the other rainbow polishes to create a gradient effect!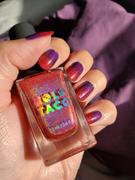 08/04/2020
Karina G.
Canada
Fave of the collection!
The consistency was a little thick, and I find most HT polishes are the same. But, a few drops of nail polish thinner helped this particular polish! The formula also dries really fast! You can get two coats down and dried in a flash (but not so quick that you're racing against the clock worrying about drying clumps). The color is also amazingly opaque, you could get away with just one coat if you really wanted to. And, considering all the holo in the formula, it dries pretty smooth, though I still recommend a top coat to really make the holo shine! It pulls more pink than I thought it would, and more than I would have liked, but I can't deny that it's a beautiful shade! Maybe not the perfect holo red, but a beautiful shade nonetheless, and definitely my favorite from the rainbow collection. :)