Customer Reviews
Write a Review
Ask a Question
Filter Reviews:
holo
polish
quality
Cristine
coat
nails
taco
bottle
brush
holo taco
09/22/2020
Kristen M.
United States
Lovely
GT is so comfortable, easy to use and work with. Top coat is now a must for me. Such a positive difference.
09/22/2020
Karoliina L.
Finland
Excelent with some practice
For a person who has used quite runny top coat before this one was hard to apply on nail on few first times. This nailpolish is really thick like a hot glue and dryes just as fast. So to me who had used just thin coats of top coat and quite slow applying this needed some time to get used to. With this polish you need to use quite thick coats and apply fast. When you have learned how to apply the product it works like a dream. It dries really fast and really hard. My manicures have lasted several days longer undamaged after using this product.
09/21/2020
Beonkia
United States
Loving it
I used to HATE this top coat because it was stringy after just one use. ONE! And it was wayyyyy too thick for me. But I put a lot of thinner in it and it's perfect now! It doesn't cause bubbles and leaves a fantastic shine. Only problem I have with it is the width of the brush. Way too skinny for me. Hopefully Holo Taco will come out with a wide flat brush one day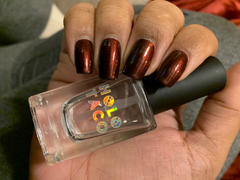 09/21/2020
Cathy
United States
so many bubbles :(
I bought glossy taco along with a few holos and I'm really disappointed about how glossy taco applies. I've been looking around for a good top coat after the one I was using changed its formula, and I really thought this would be the one. However, it leaves bubbles no matter how I apply it and totally ruins my manicure. This product was out of my price range and I'm so sad that it didn't work well.
Holo Cathy! We are so sorry you aren't fully satisfied with Glossy Taco. Our Customer Experience Team will be in touch with you via email, please check your inbox for their message.
09/21/2020
Marie B.
Belgium
A glossy taco!
Yep, that's it. A bit thicker than what I was used to, but it's easy to get the hang of it :-)