Customer Reviews
Write a Review
Ask a Question
Filter Reviews:
color
polish
coat
blue
nails
holo taco
formula
application
brush
coverage
10/16/2020
Christine
United States
Royally pleased
I've been looking for a blue polish like this for the longest time! Every one I've bought in the past turns out so streaky, or so dark after 2 coats that you can't even tell its a royal blue anymore! Cristine has perfected the "one coat" formula with these solid color polishes! Its a blessing in the nail polish world! No more streaks or mini polish mountains just to get opacity
10/02/2020
Angela
United States
Beautiful blue!
This is a beautiful blue color, and the 6th or 7th polish I've tried in the range. The reason it took me so long to try it is because I had an absolutely awful time with applying the white polish, but I adore every unicorn skin, holo, and rainbow I've tried! I'm very pleased the formula of royal tea blue goes on much smoother and thinner than the white shade. I just wish the brush was wider and rounded. I love the color, even though it's far more vibrant on camera, and more of a rich blue vibrant navy in real life (basically mix the camera blue with a true navy and you have this color in real life). You can't fault the shade in real life for how it shows on camera. It is gorgeous and unique to any blue I have. I didn't even put a flake/unicorn holo on top, even though I've put them over every creme shade I've used since they came into my life a few months ago. :'D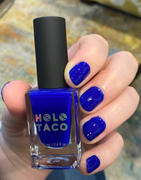 09/29/2020
Esther
Netherlands
Too thick
I absolutely loved most of the holo taco products I bought. Unfortunately, Royal-tea Blue wasn't one of them. When I first tried it, I assumed it was user error, but after a few months, I still can't get this polish on mostly smooth. From the beginning it was super thick (a lot thicker than one coat black). Despite the thickness, one coat isn't enough for full coverage, and after applying the second, it still isn't smooth at all. This is something I would more expect from a bargain brand. The color is a lot darker than the pictures as well. I don't know if I got a wrong batch, but I hope this isn't the usual formula. Again, I loved most of the other polishes I bought, so this was really unexpected.
Holo Esther! We are so sorry you aren't fully satisfied with Royal-Tea Blue. Our Customer Experience Team will be in touch with you via email, please check your inbox for their message.
09/26/2020
Jocelyn H.
United States
Beautiful color and amazing as always!!
Easy application. I like wearing the Blue Flakie Holo Taco on top. It's such a pretty color!!
09/22/2020
Remi
United States
My favorite creme
The formula is thick and easy to work with for someone with shakey hands. It's also my favorite bright color to pair with solar unicorn skin!