Customer Reviews
Write a Review
Ask a Question
Filter Reviews:
polish
nail polish
coat
blue
nails
coats
color
brush
holo taco
colour
CK
01/25/2020
Carman K.
Canada
Not feeling blue.
Love it
01/24/2020
Alondra D.
United States
Amazing
Love the quality and the color. Totally worth buying it.
01/22/2020
Grecia C.
Mexico
Shook! but in the wrong way :(
OK, I never though I was going to put a 1 star review on Holo Taco, but let me tell my experience. first thing's first 1. I got this for FREE on the black friday sale. (29/nov/19) 2. Beacuse I also bought some holoday polish, I didn't have the opportunity to play with this polish (Royal-Tea Blue) before. That's why this review is a little late. My problems: 1. The texture of the polish is weird, like glue...?? but not at first, its like glue when you go halfway the nail. 2. It NEVER dried! I waited like 30 minutes, so I decided to put some HOLO Scarted on top of it, and then a Glossy Taco. (It worked, finally I could touch my nail without ruining my design.) 3. BUT!, Today is my second day with the polish and I have already chips in 6 of my nails. (Also I used the long lasting base that actually works) Overall, the only one to blame is this Royal-Tea Blue polish, other products of Holo Taco are the best 10/10. So that's why this is a SHOOK for me. And little sad. Maybe I got a terrible batch and beacuse it was free Im really NOT mad. I'm just Shook.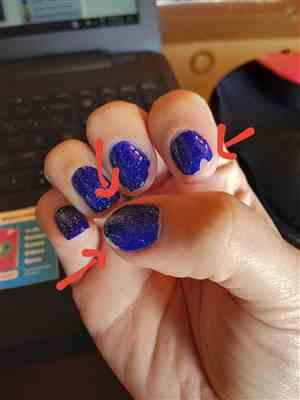 Hi Grecia! We are so sorry you aren't fully satisfied with Royal-Tea Blue. Our Customer Experience Team will be in touch with you via email, please check your inbox for their message.
01/22/2020
William F.
United States
01/22/2020
Kera M.
United States
Perfect color
Polish goes on evenly and is the perfect blue! Love it!!