Customer Reviews
Write a Review
Ask a Question
Filter Reviews:
color
polish
coat
nails
formula
holo taco
Magenta Jelly
collection
shade
bottle
LV
10/19/2020
Laura v.
Netherlands
Mesmerizing
What a beautiful polish. Needs two coats, but after that it is truly magnificent. You don't have to add a holo topper, since it already has lineair holo in it. Just a glossy taco is enough. I keep staring at my nails, putting my phones flashlight on it. Mesmerizing
10/19/2020
Claire T.
France
Perfect formula
Favourite formula so far, The linear holo applies like heaven on the nails and is opaque in just 2 coats. Looks really good under any lights !
10/18/2020
Melissa B.
United States
Where have you been all of my life?!
I'm old, so I apply nail polish wearing readers and a headlamp. Looks ridiculous, I know. But it brings out the rainbows. One stroke of magenta jelly and I was instantly transformed into the little girl version of myself who loved purple and rainbows! I can't wait to use my document camera in front of my school kids tomorrow and watch them gasp at the rainbows brought out by the overhead light. Since using Holo Taco, I have had to change my polish at least twice a week because my kids love it! (And so do I!)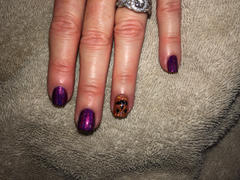 10/18/2020
Roulla C.
Australia
Magentalicious
Wow just Wow what a striking color
10/17/2020
Dani G.
United States
Beautiful polish
Smooth formula. Goes on great. I love it.