Customer Reviews
Write a Review
Ask a Question
Filter Reviews:
works
colors
anything
nails
time
love
holo taco
issues
glass
nail file
09/19/2020
Heather C.
United States
Files like a dream
Absolutely love the glass file! I don't think I'll ever go back!
09/19/2020
Grayson K.
United States
Very good
It's pretty fragile so be careful opening it! The first time I bought one, while unpacking I snapped it in half. But it works soooo well. It's worth it!
09/18/2020
Morgan S.
United States
Love this nail file
Best nail file I have ever used. Would definitely buy again
09/18/2020
ZHRA M.
Kuwait
Really great quality
The nail file is smoother than I expected. I expected it to be as rough as normal cardboard nail files but it's not. That made me worried that it will take longer to file my nails but it actually didn't. It was quick with taking off the length that I didn't want. I never used a glass nail file before so i was pleased that it was much better than cheap cardboard nail files.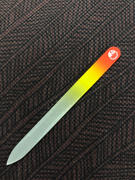 09/17/2020
Loretta J.
United States
Awesome Nail file
Awesome! Light weight and works great. Also the colors are very fun!