Customer Reviews
Write a Review
Ask a Question
Filter Reviews:
nails
nail file
file
glass
ones
colors
holo taco
edges
works
case
11/26/2020
Allison K.
United States
Love
Great gentle file, but beware the sound of glass on nail takes a little getting used to
11/26/2020
Michelle A.
Canada
11/05/2020
Ruth V.
United States
Beautiful piece of glass
I love this glass filer! I had a previous one from Sephora but it got lost. I had an extra one to replace it but I needed one extra to keep at home. I'm so happy Cristine made glass filers of her own because they are much prettier than the ones Sephora sells. Plus they work just as well. You can't go wrong with these. They are great for your nails!
11/04/2020
Diana
United States
Perfect but soo fragile!
These work insanely well! I never get any snags when i shape my nails. The only con is that these are so fragile, as in if they fall onto a carpet floor they will shatter (2 foot fall!). Ive already purchased two, and the first one broke in transit. The holo taco team was really understanding and sent me a new one, but it wont change the fact that these break extremely easily. The second one i got for free also broke, and this one broke too. I feel like a stronger case would solve that, but since i dont have a nail file case, i can only use the one holo taco gave me. If you want to purchase, do it! Just make sure to take care of it like a newborn baby.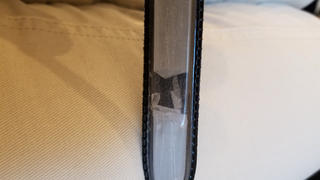 Holo Diana! We are so sorry you aren't fully satisfied with our nail file. Our Customer Experience Team will be in touch with you via email, please check your inbox for their message.
10/30/2020
Marcos S.
United States
It's amazing!
I've used glass nail files before and this one is my favorite. The glass files I've had had filled down much faster, but this one is still good! the color is super cute and the file grit isn't as abrasive (which is a good thing) as the other ones I've purchased on other sites/ stores. And the color and gradient is the exact same in person as pictured online. I will say packaging could be better. Yes, the file came surrounded in bubble-wrap and in one piece, but the box was still as big as when you buy the polishes (which isn't huge, but a specific sized box would be much appreciated).