Customer Reviews
Write a Review
Ask a Question
Filter Reviews:
coat
nails
taco
polish
smell
shine
manicure
holo
bottle
Super Glossy Taco
01/21/2020
Sharon R.
United States
A great product, a weird strong smell.
My mom got me this for Cristmas and later that same day I did my nails and used it. When I did I noticed it smells like spray paint. I wont say I don't like this product I'm just saying if you have a sensitive nose make sure you are prepared to plug it, or just suffer to the smell. I still love this product though.
10/23/2020
April T.
United States
Best Top Coat Ever!
It dries SO quickly and is so shiny! I used to prefer getting gel manicures to painting my own nails because I liked the look of gel, but this top coat gives almost the same look and feel and makes me excited to paint my own nails! I'm on my second bottle and will absolutely continue buying!
10/23/2020
Earthymoonphotos
United States
My Current Go To
I have been using indie fast dry top coats for about 8 years. I have been through a slew of them. Since this taco was released, last year, I've been obsessed. It dries quickly. It's uber glossy. It doesn't shrink or turn yellow. The consistency isn't too thick or too thin. It's great at sealing in stickers, vinyls and decals. I do end up using 2-3 coats for heavy textured glitter polishes but that's typical.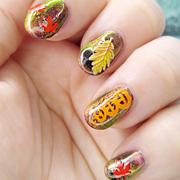 10/23/2020
Rhiannon W.
United States
My go-to
I like the Glossy Taco... I LOVE the Super Glossy Taco. I always use multiple coats. I have really thin, bendy nails, but with 2-3 coats of SGT, I've got nails of steal and my manicures last about 2 weeks (also using long lasting base).
10/22/2020
Noeli S.
United States
Strong on all accounts
I really love this top coat it is super shiny and really protective. It is long lasts for my nails which caught me by surprise I'm not used to having a manicure last a week and hold up excel for a little wear around the edges. It's really worth the money especially after the number of top coats I've purchased and tried out. The only thing I wasn't a fan of was the smell of this top coat. It was very strong. Other than that it's perfection.