Customer Reviews
Write a Review
Ask a Question
Filter Reviews:
polish
collection
color
coats
holo taco
quality
Mint Money
glitter
look
justice
LO
11/21/2020
Lauren O.
United States
SO shiny!
I absolutely love Mint Money - so much metal sparkle and such a subtle mint color. I can't stop staring at it and it just may be my new favorite!
11/21/2020
Sabrina
Germany
It's sooooo shiny
I bought the bundle with the beautiful box and today was the day for my first ever Holo Taco experience. I chose Mint Money because I'm a sucker for green (and money ) It was fully opaque in two coats and I absolutely love this polish. It's so shiny, you might get blind. Finally a reason for wearing sunglasses during winter season! But wait, no don't do it, you don't want to miss out on the shinyness, trust me! The green is oh so subtle but it's definitely there and looking very gorgeous. Can't wait to try out the other shades and the whole rest of my purchase but for now I'm gonna enjoy the little green beauty I added Flakie Taco to the ring finger and topped the whole manicure with Glossy Taco... of course as you do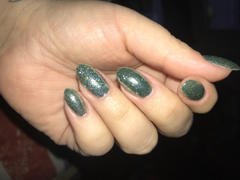 11/20/2020
Jess
United States
Blindingly bright!
I actually ordered this by accident! The more I thought of it, though, I decided to keep it and told CS not to worry about a return (they were super helpful through that process, by the way). I'm glad I decided to keep it because LOOK AT IT, JUST LOOK AT IT IN IT'S SHINY THIN-MINTY GLORY! Foil is my weakness and this polish knocks me on my butt. I may have to not-so-accidentally purchase Cheap Champagne and Cold Shoulder before year's end.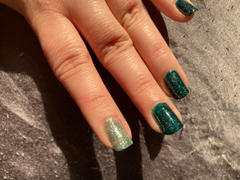 11/20/2020
maryn d.
United States
Gorgeous
I don't usually gravitate towards green, but I just had to get this polish! It's the perfect color for the holidays! I love the little silver flecks throughout, it gives it an icy look! The only complaint is that it took awhile to get here, but customer service handlers it very well and it was worth the wait!
11/20/2020
Tracy K.
United States
Menchie's Mint is a star
Though I've never been drawn to frosty metallic polishes, this collection converted me. This one did require three coats to get that nice cool frosty look along with the sweet minty green. I did slide on a scattered holo taco just because! My picture just does not do this dazzle justice, it's a fun mani and will distract you in any lighting. Popping the peelies is quite satisfying and I may be working my way through this collection at a record pace because it's just too fun. Great mood lifter among our present chaos!