Media
How to peel off your nails with Peely Base!

Removing nail polish isn't a problem anymore with Peely Base!
Customer Reviews
Write a Review
Ask a Question
Filter Reviews:
polish
nail polish
Cristine
nails
nail
base
peel
base coat
peelies
peely base
04/03/2020
Hannah P.
United States
Peely is as peely does
This works SO well. I love it. The only problem my nails don't last more than 1-2 days even after prepping correctly (followed Cristine's video) and they were chipping/peeling off after a couple days. I don't think it's a problem with the peely base but more so I use my hands all the time. So it's not super practical but I'm excited to have it so I can change colors for events and holidays.
04/03/2020
Michaela B.
United States
Awesome product
I have really enjoyed using the peely base from Holo Taco! I am no longer afraid to do gel nails because it only takes me a minute to pop off the peelies and start again! I would recommend and I will be buying again!
04/02/2020
Marisol g.
United States
Works a little to well
For me it worked a little to well, my mani only lasted 1.5 days with this peel base before they started popping off cleanly! BUT to be fair I did try this during a time of global pandemic when I'm washing my hands obsessively, sanitizing, or wiping things down it probably would have lasted longer If I could just live normally. Overall amazing product does what it's suppose to. Will try it again when I can go outside or back to work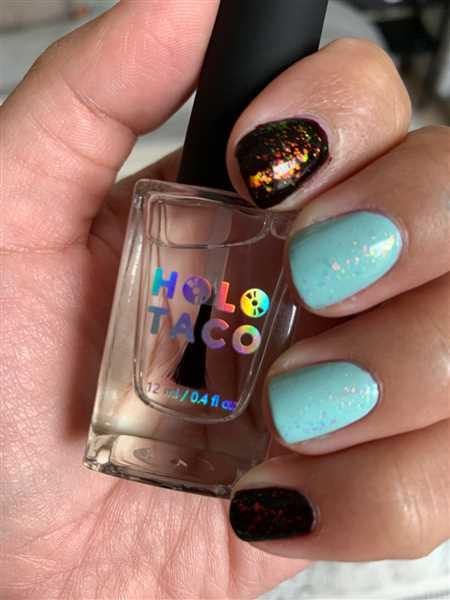 04/02/2020
Daniella S.
Canada
As easy as it sounds
So easy to use, no tricks or special technique needed! However I will mention that using this base makes the polish more inclined to chip or break-off. I recommend watching Holo Taco's youtube tutorial on how to apply it to make it more long lasting if you plan on having it stay on for more than 2-3 days.
04/02/2020
Jessica W.
Canada
Good product
I think this is a very good product. I followed the Holo Taco tips from YouTube to use it and it does exactly what it is supposed to do. I gave it 4 stars because you have to be very careful with it or it might rub off while painting your nails or right before and if you don't use it just right, your nails fall off pretty quickly. I even tried it out as a protective barrier around my nails for doing a gradient and that worked just fine.