Customer Reviews
Write a Review
Ask a Question
Filter Reviews:
polish
coat
chips
nails
taco
base
holo taco
hands
base coat
manicure
08/15/2020
Abby P.
United States
08/14/2020
Sofia S.
United States
Refreshingly True to its name!
This Long-Lasting base coat is great. Works well with other holo polishes and the top coat. Doesn't peel over right away. Purchased more than once.
08/14/2020
Allison F.
United States
Life-Changing for a Casual User
I've never had fancy nail polish before. This base is so easy to apply and worked like a dream with the other polishes and top coat I ordered. Definitely a life-long Holo Taco customer now...can't wait for more collections!
08/14/2020
Jessica S.
United States
Great Base!
I love this base coat. In this picture, I used the long lasting base over the smoothing base, and then did a gradient with two colors, flakie taco and a top coat, and so far my manicure has lasted a week without chipping. I've used this base coat on its own and with the smoothing base underneath, and I seem to get the best results with the smoothing base plus the long-lasting base rather than just the long-lasting base coat on its own. That said, I think the long-lasting base does a good job of keeping my manicure on, but after about 4 days I usually start to see minor chips, or the nail polish starts to peel off my nails. I usually get bored with my manicures after a week (sometimes less), so I haven't logged how long a manicure can last perfectly, but if it lasts a week, I'm happy. The only negative criticism I have is that it goes on with a blue tinge, so if you are trying to do a bare nail design, it doesn't look as good. Anyway, compared to other products, I think this is worth the money.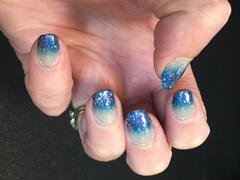 08/14/2020
Danielle D.
United States
Long Lasting
I use this as my base coat however by the next day they are chipped so i don't know what to think?